A glass of wine, some chocolate and finally time for Travian
Last update were 27 September. So what has happen the since then? Russia qual is in lead, level 87. That is 3.3 days left if no damages. Arabia level 86, not many hours after. Germany 85. Turkey and France 82. International level 78, the only server where the victory don't feel secured yet. at least 5 days more.
How long until Final starts?
Tournament pages says 14 days after last server has finished. That is 20 October but usually it takes 3-4 weeks so first or second week in November could be a fair guess.
How many players can we expect in Final?
2000 players from each server will qualify trough pop. If you don't have pop enough you still have the chance to be in rank 1000 in off or def points. In reality 2000-2500 players will qualify from each server.
I predict a top on 12000 players which will fall down to 10000 after a month, when the weakest have deleted, and 7000 in the end.
International
Tuomiopäivä from Ghetto, in cooperation with SAMCZ, Dacia and SW, is in lead. Will he keep it or not?
Many hammers have been running but there are still some saved for a last hit. We haven't seen 1453, Turkey, hitting any WW yet. CheckerB, Arabs, is also believed to sit on a couple.
Things can still happen on this server
Tuomiopäivä, Ghetto, SamDcSW, 78.
Oroniel, SAMCZ, SamDcSW, 76.
Mermi, 1453, Turkey, 72. Lost 1 level as punishment for password sharing.
dolongdao, Vietnam, 66.
Valkira, PP, 61.
The killers, HellasDT, 47.
2ez4tm, Vietnam, 42.
Lebowski, SW, SamDcAW, 38.
quangn, Vietnam 15.
Reports:
Vietnam launched on Ghetto. Large Architect, WW supports and the WW itself was targets. The 3 real met walls, not much damage was done.
Tuomiopäivä send his regards to Vietnam. "Ghetto doesn't need multi accounts, spies or even 500 accounts to send regards. Next time you should choose a weaker opponent like Hellas to succeed."
Large Architect
I have chosen the biggest hammers. There was also many small ones. 29 in total. Many had 2-3 chiefs with them but one thing I noticed was that many was unbalanced in the proportions between infantry and horses. One thing that fascinated me was that nearly no animals in the zoo died.
WW support
WW, not enough with catas to do real damage.
Other reports:
The ever going war between QuT and 1453 continues. 1453 killed a hammer.
Arabia
ND is superior. DM has fight bravely but are so outnumbered.
Revenge, ND 87 ( it is a couple of hours later), 6 more WWs building levels 27-2.
DM 0
Russia
I don't think anything can threaten mambas WW. TG was attacked - by Insanity. Duck, my Swedish host started to build and was zeroed. Another swede, Chip&Dale, also builds on a WW.
mamba, CerberBG 87.
Zerbun, TG, 48, 21.
Харизма, Выползни (Cerber) 31.
Frees, VC+BS, 13.
Chip&Dale, CerbeR, 9.
Duck 3.
Reports:
One of TG's WW zeroed..
One of TG's building plans is lost.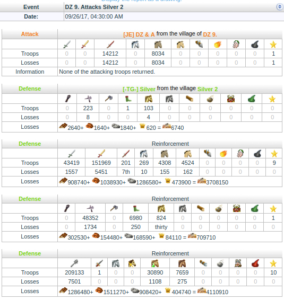 Another report from the quad war.
I got this report when I had finished todays update. A really nice one.
A hammer was found as reinforcements in a village that that holds a "Magic Mill" The Russians have more poetic names, I suppose it is a diet.
Duck WW zeroed by NS, I recognized Czech players.
Puh, I'm refilling my glass, still have chocolate.
Germany
From beginning the Itlians have ensured me they are only here to qualify. Most of them are simming, many accounts is yellow or worse. still they dominate the server. HUN, that is new to qualification in this shape, have had internal struggle and the SE HUNs and SW HUNs is now enemies. Germany has lost tempo from doing very well.
Banda Bassotti, Italy, 85.
Killer LT, HUN SE, 57.
Deutschland, FF, Germany, 56
Schwarzer Adler, FF, Germany 56
Rio2o11, German, 51.
Erácska, HUN SW, 49 supported by Brazil and Netherlands.
Barracuda05, Bogyókák HUN SE 0, Conquered ww from triplice (BRL).
Reports:
Germany vs Italy no damages.
Italy s LT (HUN SE)
Italy vs FF (Germany)
Turkey
COF meta is superior. Poland have done best of the guests on the Turkey qualification. No one else have been able to continue to build on their WW in past servers.
Karaca.s COF ZERO, 83.
Pralka Frania, Poland, 66.
Ehtiyar&Eva&Soa, TUNA, 43.
ZEUS, ŞAHMARAN, 36.
ramu, ATATÜRK 35.
France
COQ meta is prosperous. There might be hammers left that can hit them but I don't think it will change anything. Indonesians have been many enough to play a part. It must be a new experience for BAD to make so little impress on a server but they have had 777 as enemies the whole server.
Kisscool, COQ, 79.
BadBoys, COQ, 77.
Rhaken, R I, 74.
caps, FR[ai]SE, 49.
3 Kamis, R I, 42, 1.
Meurs Lete, FF, 10
Marcus Seh, COQ, 7.
RocknRolla, 777, Ukraine, 5.
Reports:
I got confirmation from Indonesia. They conquered he second building plan from BAD.
And so the only that is left is to copy this to my Corner in Travian forum.
I forgot to eat my chocolate..