Next Progress Report Due Date: August 31 (Day 135)
Day 105 Progress Report
Special artifacts edition!
The fog has cleared and the sun is above.
With horns of the natarian in glove,
Many fought battles, few worth speaking of;
a day without rest for the mourning dove.
Artifacts of great and ancient power
with alacrity, spirited away.
Though destruction has been wrought, consider
this a pale shadow of some future day --
Wonders will rise and hammers will shatter;
Through the desperate battle, my banner.
~ TB (8/1/18)
There are only 3 major alliances worth considering at this point, so I've taken the liberty of ignoring the rest. The advent of arties requires a little more analysis than I have included in previous reports.
For those of you spectating, the three major alliances are, in order of power (in my opinion, obviously) :
1) [55 players, 85% chance to win] the Slackers (name of the week in the Southeast, though with tendrils in the Southwest and Northeast, currently labeled "IAS," "Invasion of the Arty-Snatchers").
2) [90 players, 7.5% chance to win] CNIPS/CNIPZ in the Northeast and Northwest,
3) [55 players, 7% chance to win] PVLN in the Southwest and Northwest.
[[Note: the missing 0.5% win chance is for the apocalypse, shenanigans, explosions and the like.]]
Here's the data I am looking at. Unlike in previous reports, I am not reporting this to you objectively. My thoughts are included. I considered three major factors: army strengths (gauged through raid and attack), arty control (because, *gasp*, I have a treasury and can see who owns artifacts), and development (capital and hammer development is a huge factor in progressing from here to victory).
Army Stats
As measured by raid, Slackers have a massive advantage. Here's my snapshot of this week: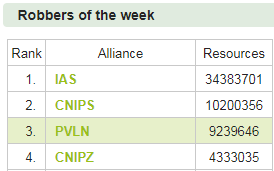 This is damning. Even combined, the other major alliances have fallen significantly behind. This speaks to existing troopcounts as well as the potential to queue future troops.
Anyway, here are the other stats: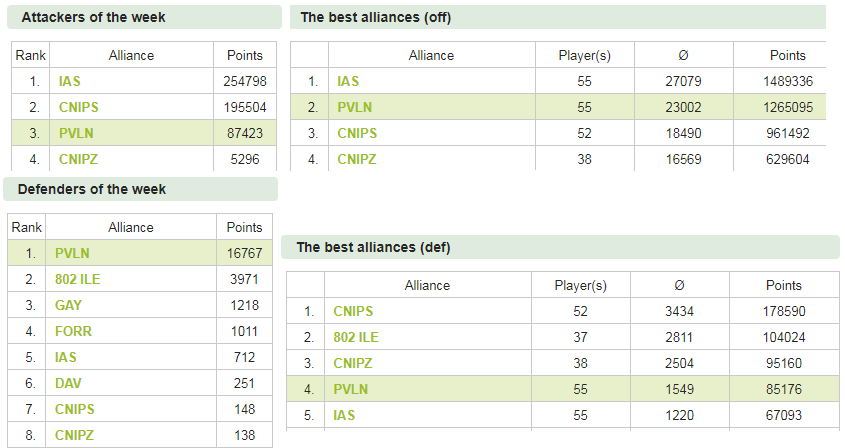 Although nothing has really happened yet this server defensively, I don't think there's much to say about this besides the obvious. Slackers leads, and the other alliances, combined, might maybe stand a chance.
Sure looks like Slackers have the most powerful forces, though.
Arties
Note: I consider large artifacts to be the least valuable type of artifact. They're annoying to move and hard to defend, and the common player needs artifact bonuses in a single village, not across their account. A large in certain categories, such as a wall, is a must, but too many larges is a drain on defense. Smalls are infinitely more valuable, IMO.
Slackers [1st in category]
16 smalls [2nd]
< 3 speed, 2 scout, 3 diet, 2 trainers, 1 storage>
9 larges, 3 uniques [1st]
<large wall, large speed, 3 large scout, 2 large diet, 2 large trainer, 2 large storage, unique wall, unique speed, unique fool>
CNIPS [3rd in category]
15 smalls [3rd]
<1 speed, 2 scout, 2 diet, 1 trainer, 3 storage>
6 larges, 3 uniques [2nd]
<large wall, 2 large speed, large diet, large trainer, large storage, unique scout, unique confusion, unique trainer>
PVLN [2nd in category]
17 smalls [1st]
<2 speed, 2 scout, 1 diet, 3 trainers, 2 storage>
6 larges, 1 unique [3rd]
<large wall, large speed, large scout, large diet, large trainer, large storage unique diet>
Narrative: I think that Slackers picked up too many larges, and even though they have the most value (obviously), I'm not sure they'll be able to defend all that. Slackers has the unique wall, which is probably the only advantage they need to secure a win given their other advantages. They also have the hammers to really go after the UT and UD held by adversaries.
I think PVLN has the best mix of smalls (change my mind), and has the Unique Diet.
CNIPS/CNIPZ has parity on counts, but I think that their arty mix is relatively weak. For example, 3 small storages. After storages rotate, they're pretty useless. (Once people have gg/gw's, you don't need to keep that many around, and this ain't a big server.) Or another example, the unique cranny is pretty much worth the same as a large cranny, just took more hammer to pick up. Basically I think the UT and Unique scout are what CNIPS has going for them. (Not to knock 'em, they did pick up valuable smalls, just not as many good ones as Slackers and PVLN.)
I'm bad at this game, though, so if people want to dispute my relative valuations here, by all means.
Development
Total development / Average development
Slackers: 341,861 / 6,216
CNIPS/CNIPZ: 387,122 / 4,301
PVLN: 245,925 / 4,471
Highly developed capitals [count of 15c's over 950 pop]
Slackers: 17
PVLN: 9
CNIPS/CNIPZ: 9
This is a flawed measure, obviously, but if you don't have 950 pop on your 15c, it's virtually impossible for you to be all 17's at this point. Note also that this count is 15c capitals with 950+ pop only. In general, villages over 1k pop belonging to known hammer accounts also strongly favored Slackers when I looked through the list, although I didn't keep a strict count of potential EGH's. So that's not listed, but I will say from looking through the top 10 pages of villages on the server that I expect great things from Slackers EGH's.
In any case, the narrative is pretty clear: PVLN and CNIPS have some quality (a bunch of the accounts I looked at are set up quite well), CNIPS also has quantity (most development), but slackers has quantity of quality (by far the most well-set-up accounts and huge advantage in average player development).
In this category, Slackers is the clear #1, followed by CNIPS and PVLN. Oh, and if you were wondering, pop for player #100 is 4,474, and for player #50 is 5,858. The average slackers player would rank 45th this server, on a server with only 388 active accounts. That's a heavy, heavy advantage.
For the record, Slackers have 34 of the top 100 players, the same as last time. PVLN have 25, which is up 1. CNIPS/CNIPZ has 36, which is up 4.
Also for the record, this bit of stats is not really relevant to the server, I think, but it's worth noting:
This server has a bunch of heavy gold users, almost entirely limited to Slackers. This game has increasingly become pay-to-win, and it shows. The "top 100" stat is basically meaningless, as the difference between the #1 player and buyer of artworks, Palpatine (Slackers), who has 21 villages and 16,684 development alone, and the #10 player, Hoodlums (Slackers), who has 9,960 development and 14 villages, is a whopping 7 villages and 6,724 development. That difference is more significant than the difference between the #10 player (Hoodlums), and the #100 player, XCaliber (PVLN), who has 4,474 development and 7 villages. (Difference of just 5,486 development.) It's too soon for autopsies of TG, I think, and maybe designing the game where heavy gold use results in such a huge advantage is a good business strategy, but it's certainly not conducive to maintaining a large player base.