Only now did I realize that it's been almost a year since my first entry in this diary. It has been an eventful time. Eleven months ago, I couldn't even imagine where this path would eventually lead me.
Meantime, the world has progressed, the tribes have mobilized, and the appearance of the lands is changing. Each province has developed their own unique architecture that reflects their history, customs, and traditions. Mighty alliances have now formed into confederacies, with each fighting against another for supremacy. New tribes, the Huns and Egyptians, have joined the ultimate battle for the title of champion.
I witnessed the gathering of representatives in our capital. I saw unique Wonders of the World. I read reports about the most powerful armies that trampled over villages with impressive defenses. I eventually found my place in this world: as the herald, the messenger, the stranger, the ambassador. My purpose here is to visit different regions to gather information on what people are talking about, collect their wishes, and relay it all to the palace. I am the shadow of events. I'm happy with what I am and where I am.
Another boost to my happiness is that my sister Marcella seems to be alive! One of the heralds traveling to the lands of Codex Victoria told me that he had met a young woman in the hospital who looked exactly like her. She had been helping a wounded soldier to recover from his injuries. My sister looked rather tired, but otherwise calm and well. I really hope to hear from her soon and find out more about her journey!
A sudden noise in the street made me peer out the window. It appears winter is finally coming here. Snow has recently began to fall. Children were making a huge snow fortress in the valley and were preparing for a snowball fight! To spice things up, they were hiding some presents under the compacted snow bricks. Indeed, it was one of their long-lasting traditions to celebrate the onset of winter: Everyone who hits the right brick will get a prize. The fortress attracted the attention of passers-by and a crowd started gathering around it. Even veterans and hardcore warriors put their weapons aside and helped to build the wall and take part in the ultimate snow battle.
So, now back to my notes. I found out one more interesting detail about this world. People here really like tricky tasks and they use them on every occasion that presents itself. Throughout the year, I have had to solve them. Eventually, collecting those tasks became my new hobby!
Only this morning, I heard how the innkeeper of the tavern where I stayed was hiring a new worker. He gave the worker a riddle;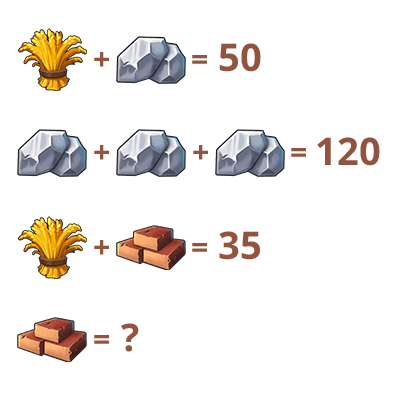 The worker solved it correctly, so the innkeeper offered him a job and promised to pay 120 Gold per year (60 each half a year). The innkeeper also said that he would increase the worker's pay regularly, but the worker had to choose between two plans right then:
Get a +15 Gold pay raise every year
Get a +5 Gold pay raise for every half a year
The worker didn't hesitate even for a moment! What amazing people live here!
By now, people outside had almost finished constructing the snow fortress and I had to go! Today I looked back, but I saw the future. And the future appears to be very promising!
Task: Solve the innkeeper's riddles. How much would clay cost? Which option is better for the worker if he's planning to work here for at least three years?
The end.
Missed the first series? Here you can read how it started!