Hello community and representatives
So we just came across this newly enforced rule today:


Why did we get this?
1 account from our alliance made a trade in the marketplace with a random enemy account on the server. Then a 2nd account from our ally raided the random enemy account after the trade had been made with the enemy (the 2nd account is also the sitter for the 1st account), and when the raid landed he got this warning in his report, resulting in a fight, but no ressources gained from the raid.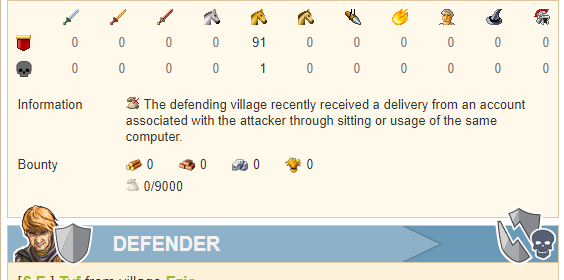 Picture taken from the 2nd poster in the thread
What does it mean?
It means that if you make any trades as an account, or any account that you sit, then you can't raid the account which were traded with for 2 weeks.

Why do we care about this?
We as a group have been left quite speechless regarding this anti pushing feature, since it counteracts some of the most basic core functions in the game.
And can result in some heavy downsides at different points in the game. So let me try and narrow down the main concerns.

It's pretty simple to be honest:
We love trading. We add hundreds of trades to the marketplace every day.
Example: 500 clay for 1000 crop in earlygame and 6000 clay for 12000 grain lategame.

Why do we do this?
It's millions of ressources earned under the table, and it also helps feeding the hammers.

So why are we bringing an attention to this?
Both off players and the def players do this trading, and we have 0 control over who picks up the trades. And apparently whoever picks up any trades from us, is given a 14 days anti raid shield.

Likewise there is no information about a trade has been done with an account, so at some point we might see an interesting farm, and then we go clean it, and as soon as we lose thousands of troops clearing it we will get a notification that we can't raid the account. Just imagine that for a second

Then imagine 3 accounts in a sitter grid, whom can't control or see any of this information.
How are we to circumvent these downsides to trading?

So far our only solution is to completely stop trading with anyone on the server, which just means less relevant trades for the low gold users on the server, and we are left with an old feature of the game that has become completely useless.

Was this a planned outcome of the antipushing rule?
And can anyone share any light on the function in general, like when was it even implemented, and how do you feel this changes the flow of the game?