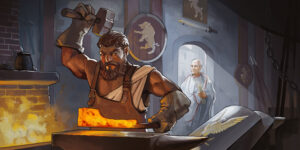 The blacksmith once again looked at the parchment a visitor had just given him.
There was nothing particularly unusual about this order – to decorate armor and a weapon with an emblem... ⚔️ #ShadowEmpires


Curious to know more? ➡️ Follow the story!⬅️






With the new tribe buildings on the way, I think it would be a fun change (even if just this year) to remove the ability to chief other tribes and maintain the tribe of the village. With this, we would really get an idea of the balance of new buildings.




An added bonus would be the elimination of half the tech account efforts. Tech accounts most harmful to game balance are Egytpian techs settling caps for other tribes.

Still looking to add duals to the team.

Confession -- I'm old. I don't understand a lot of internet stuff. What language is Travian coded on? I don't even know if that's the correct terminology. Is it HTML?

I will buy all the gold. I am looking for a dual for a CV 2x server. DM me for details.

That's just an incremental WW server though. Instead of winning all at once, you win bit by bit over a period of time. I think the random dispersion to one part or another provides a variety that can't be planned for every round.

I think the unbalanced distribution of powers makes the game much more fun. Often times, three or four alliances are fighting for what would normally be one section of a quadrant in a normal server. It forces groups to fight it out -- rather than everyone pick their corner and wait it out at sniping distance (most of the problem with WW servers nowadays).

It has always baffled me that they have kept the same powers in place for nearly five years. It would not be hard to randomize things.

The way the books are piled against the door -- it couldn't have been closed that way by someone on the other side.

This is a neat idea. But would the Egyptian unit cost more than a Ram, and only save you 1 crop per hour per carriage? That doesn't make sense.

Since the Huns and Egyptians arrived on the scene, there has been pretty consistent talk that Gauls aren't very good anymore. Some have said that trappers need to be removed and replaced with another special building. I think I recently saw a post here saying the Gaul troops should be cheaper. I think the best option would be a little different.




If a Gaul traps enemy troops in the trapper, they can convert trapped troops into Phalanx for half the price of the normal cost of Phalanx (conversion would be crop consumption; Example: one trapped Equites Imperatoris would equal 3 phalanx that can be built at half price). Those Phalanx build in the barracks as if they were normally built there.




Maybe if you have a Trapper level 15, Druid Riders would be allowed. And then at level 20 -- Haeduans. Allied troops would not be eligible for this process. Maybe slaves should be excluded altogether because of the opportunity for exploitation of the game.

She does mention there's a AE server starting in March BUT IT'S 2X.




I know they aren't dumb. The only thing it can be is laziness?

Typically when they display the game version, it will say "T4.4 Codex Victoria." If it doesn't say CV/Pandora/Ancient Europe after the version, then it's a normal WW server. The posted version for this special is just "T4.5."




Even if it is ancient Europe, that's still not achieving what I'm pointing out. No one that plays normal servers plays 5x. But either way, it's still only posting two Europe's per year -- and the NY server is overlapping with the birthday special.

It really blows my mind that Ancient Europe servers only run once per year.




I get it -- KEEN doesn't want to see TG turn into something that wasn't his idea. But most players are tired of WW servers (just look at how his newest idea of Travian Kingdoms turned out). Am I the only one surprised by this oversight? I know a lot of people that were bummed the New Year's special was just a WW server. How hard would it be to simply rotate server releases between WW and Ancient Europe?

These are cool ideas. I don't know if they are fully developed for how they should be implemented, but the devs should certainly look at these ideas.

So much hype for a 5x server lol

No one is going to play this 5x round. Yeah -- the 3x speed freaks and children with ADHD will be all over that. But otherwise, this is a waste of time to most of us.

All but people who use toilet paper think toilet paper is necessary. It's not real man!

Cool, but the rest of us aren't dealing with not having a job -- so we need 1x servers.