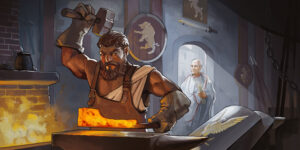 The blacksmith once again looked at the parchment a visitor had just given him.
There was nothing particularly unusual about this order – to decorate armor and a weapon with an emblem... ⚔️ #ShadowEmpires


Curious to know more? ➡️ Follow the story!⬅️






Yeah, quitting was the primary choice I took.

I also had an idea of giving a shot at something to improve the game, but I'm not quite ready to go to prison yet.

Travian going in the wrong direction and things getting worse?




Nonsense, there was never such a thing. Probably just your imagination.

Is it illegal if no one knows you are using it?

You're welcome. It even saves you precious time to play some other game where they don't actually allow cheating.

Yes, a pat on the back from yourself.

I quite like it when someone bites the bait. Even if it's pretty obvious.

Allowing spiking will solve the usage of bot accounts? Have you taken any funky substances when stating this?




Allowing spiking would merely INCREASE that behavior, due to fear of unnecessary losing troops in actual farms, opposed to safely farming private farms.




Besides, allowing spiking could lead to accounts made specifically for spiking, which sucks ass in early game, especially if you play fair and try to farm a few res.

Build more Embassies and Academies instead!

You are level 3?




So you basically just spawned in Lumbridge after completing the tutorial island?

Apparently my tip towards players to simply play fair wasn't good enough. smh Huma

Actually the way many are building techs this round is without gold. TG don't get any money from those players. The gold is only spend on their primary accounts. This does not increase the amount of paying players and therefore no increased revenue. So far they are just losing paying customers as this thread shows.

But there are more accounts. It makes the game look much more popular!




Surely an itty bitty cheater might be hiding here and there, but as long as it looks active from a far for mewcomers it's all good... right? Or what logic are they using, if any.

As long as techs and multies bring shiny $€£ in TG Office, nobody will fucking move a finger about the issue.




Fairplay hasn't been their priority for a long time already. And by the looks of it, it never will become either.

Administrator The topics in the forum started to exceed their purpose.this is not a personal blog.we are constantly bored with the perception of friends.Those who have a complaint can report from the support department.We want you to turn off the speech and talk about the game now.there was a wailing wall here..

Now try again without Google translate.